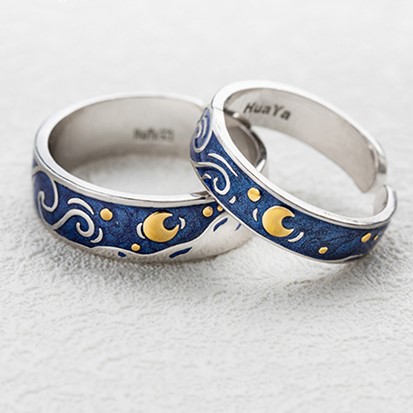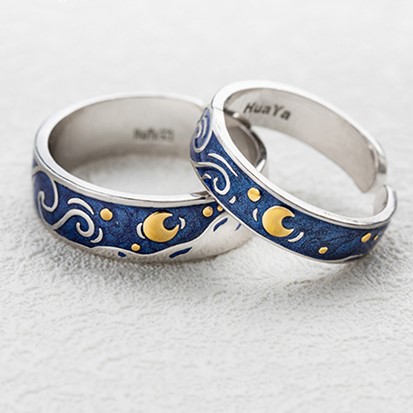 Description
Inspired by Van Gogh's masterpiece- Starry Night, this beguiling enamel ring brings artistry in the form of jewelry. Wearing one around your fingers is like carrying a miniature version of this timeless art piece with you. It is a perfect gift for a lover intrigued by art. It would be a beautiful piece to wear together as a couple. The jewelry showcases the abstract interpretation by Van Gogh of a hill above a village in the backdrop of which lays a sky filled with stars as seen from his window.  It is designed to perfection by skilled craftsmen so as to bring only the best options for you to choose from.
Specifications:
Brand: Thaya

Ring height: 5mm-6mm

Ring Weight: 2.3g-4g

Ring Circumference:

Male Ring: 55-62mm

Female Ring: 48-58mm

Process: Handmade

Material: A combination of 925 Sterling Silver, gold plated cloisonne, and midnight blue enamel
Handling and care:
Keep out of contact with cosmetics, perfumes, and other chemicals.

Silver is subject to oxidation over time and wears out after some time. Wipe gently with a silver wiping cloth regularly to maintain its sheen.

Silver has a soft texture so one should be careful to prevent any bent.

Handle with care while wearing and removing.

Keep away from extreme heat.

It is recommended to keep jewelry out of the water so as to prevent any tarnish.

Avoid contact with other jewelry and objects which may cause resistance through friction and cause damage.
Each package includes:
1 piece silver wiping cloth

1 piece enamel ring
Note: The product may differ slightly from their representation in the pictures due to the difference in lighting in different monitors. Please allow slight deviation for the measurement data.
A Word From the Designer: "I have a small wish in my heart that I always make when I see a star. I wish that I am the lonely Cypress tree, painted by Van Gogh's brush."
Ode To Vincent Van Gogh - Starry Night Jewelry
Mention Vincent Van Gogh's name and the first thing that'll come to your mind is 'Starry Night.' Starry Night is undoubtedly Vincent Van Gogh's one of the most celebrated artworks to ever exist. A 19th Century Oil Painting that depicts a dreamy amalgamation of isolation and hope, combined into poetry and art at the same time. Till date, the painting managed to strike a fragile cord in the hearts of people and the resonation it creates is an evidence of how it's beauty is perpetual.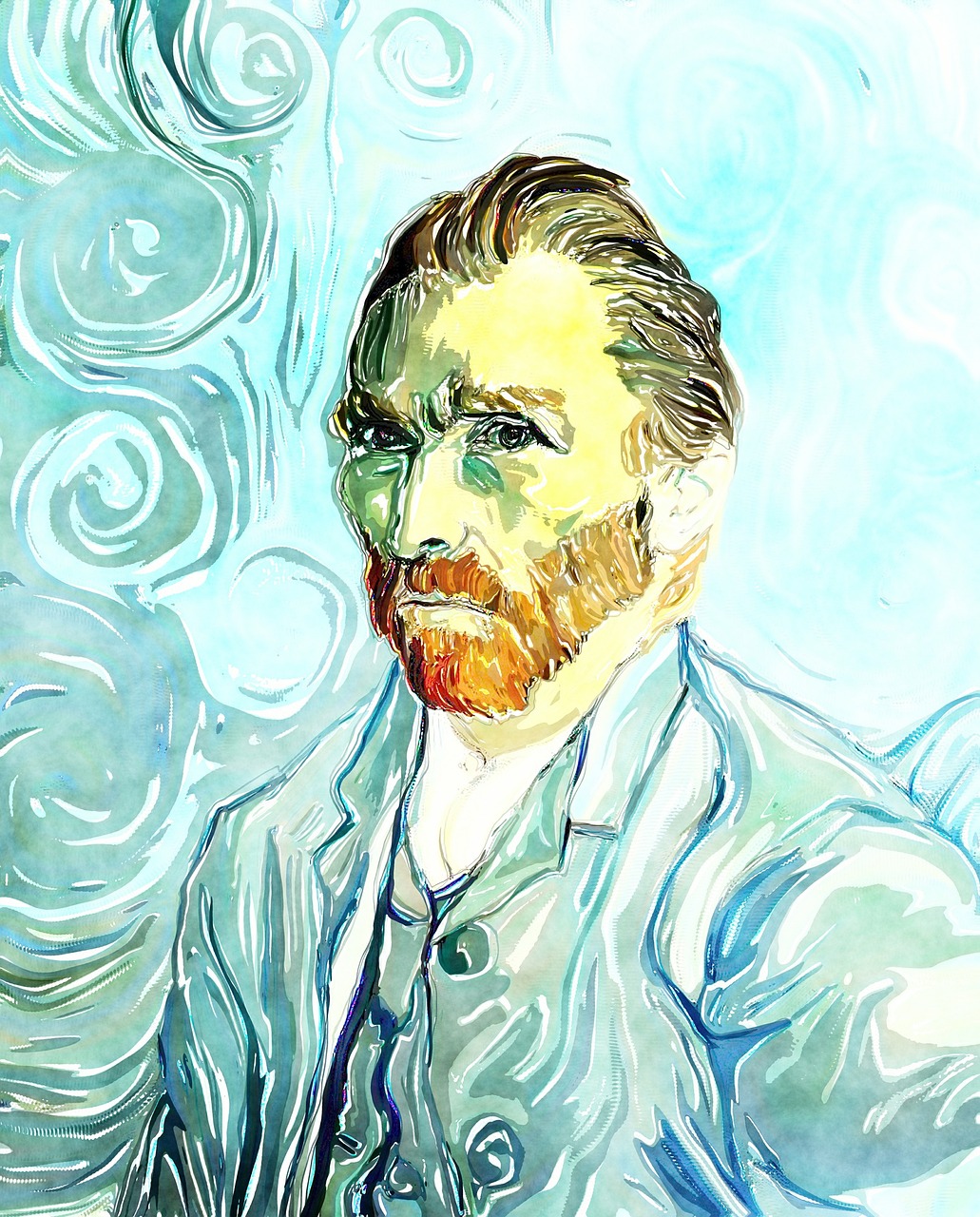 The Story Behind Starry Nights
Considered as one of the most prominent art works in the world, Starry Night was painted by Vincent van Gogh in 1889, during his stay at the asylum of Saint-Paul-de-Mausole near Saint-Rémy-de-Provence, France. The artist needed medical supervision because when he suffered a breakdown, he severed his own ear with a razor. The cruel act of self-harm marked the beginning of his depression. So while he stayed at the asylum, he was a recipient of various freedoms that the other patients remained unaware of. Van Gogh could paint, write and read stuff in his room. While his mental health seemed to improve, he relapsed again. The artist soon began suffering hallucinations and even started having thoughts of suicide. The fact that he had harmed himself previously was proof that if unattended, he could even take major steps.
Van Gogh was soon engulfed by depression and the same was reflected by the tonal shift in his work. From incorporating bright colours in his work, he began using darker tones and it all began from Starry Night. The view depicted in Gogh's painting is the one he observed from his barred bedroom window in the asylum. During his stay, he wrote various letters to his brother Theo, a fellow painter Émile Bernard and to his sister Willemien. In the letters he addressed to them, he claimed that the nights were more colorful than the day and the stars were not just mere dots, but an epitome of beauty that is a sight to behold.
Observation & Imagination
Before getting his hands on canvas and putting down his imagination, Gogh wrote to Theo-"This morning I saw the countryside from my window a long time before sunrise, with nothing but the morning star, which looked very big." The painting is dominated by a moon and stars-filled night sky. Starry Nights seem to be turbulent as the objects are given a new definition by swirling strokes and waves. Beneath the expressive sky sits a small and hushed village of humble houses that surround a church, with mountains in the background. But above all, a cypress tree sits in the foreground of this beautiful night scene. Like a flame, it rises and reaches towards the topmost edge. While people have made various assumptions about the styles and objects used, some of them really seem to be metaphorical.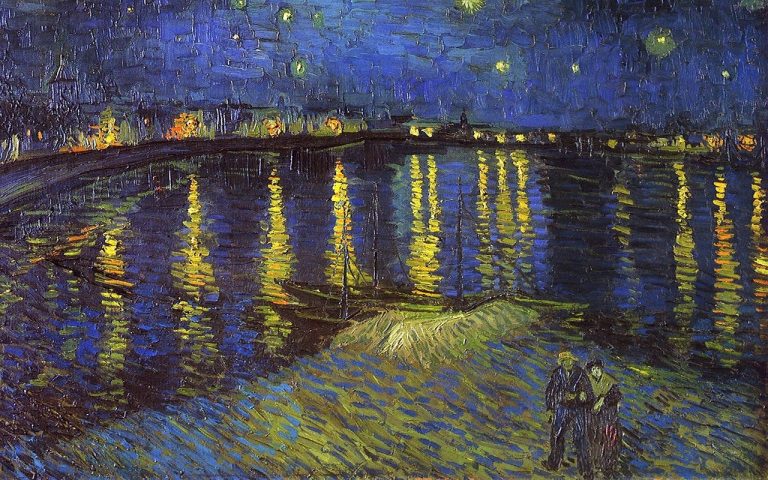 Starry Night Ring By Thaya
Starry Night is the epitome of metaphorical paintings that speaks about isolation, life, hope-all at the same time. Merchandise, drawing inspiration from this particular artwork is a sight to behold. And what could be better than artistic starry night jewelry that stays close to you all day long and reminds you of how you should never stop hustling and moving forward?

The rings are available for both men and women and are resizable from size 5 to 9 (US). Made out of S925 silver, the ring represents the beauty and hardships of life. Just as the painting is poetic and metaphorical, the ring too is full of artistic elements. The ring is a miniature version of the Starry Night painting made with a combination of midnight blue enamel, a gold-plated cloisonne, and an oil dripping design.

The blue midnight sky represents the sadness we endure in our lives when life takes on an unusual turn. The cypress tree represents the evergreen urge for humans to stay pure and positive. The stars and the moon stand as the heights of dreams and hopes that we strive for in our life. As the ring draws inspiration from one of the most prominent artworks of the late painter, it has hidden notions of motivation and a newfangled vision towards life. As a poem remains undescribed, so does an artwork. To draw the actual hidden thoughts behind it is the work of a critic. So wear your ring and be your own motivation. Make your dream come true with a perception of hope, happiness and hard work.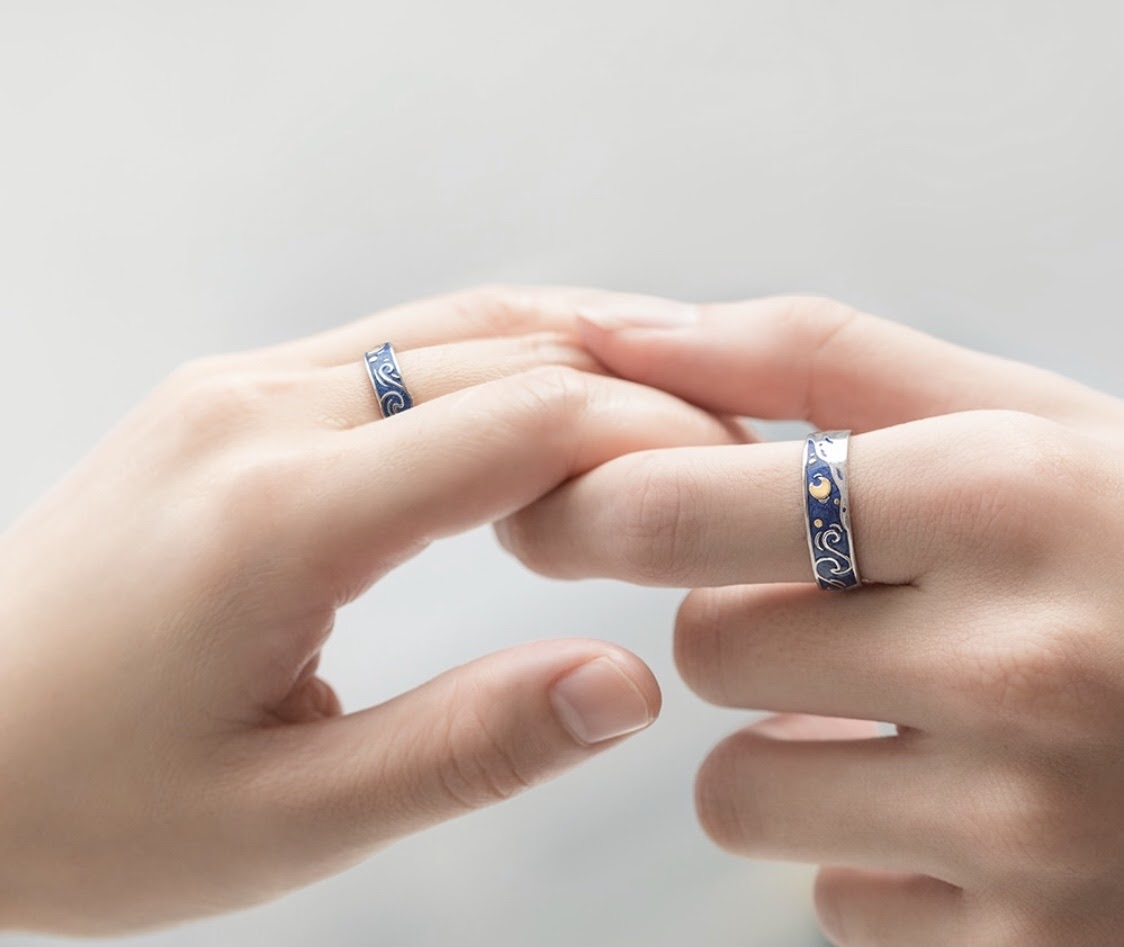 Specifications
| | |
| --- | --- |
| Weight | 60.0 g |
| Dimensions | 10.0 × 10.0 × 10.0 cm |