7 Alluring Jewelry Trends That Have Travelled Through Time
Do we love charms? Hell, yeah! There are some jewelry trends that have stayed with us from time immemorial. From beaded necklaces worn by the Greek courtly women to talismans that gypsies wore on their rounds around the world, jewelry history has evolved with time but some styles have stayed with us.
We understand your dilemma in buying classic pieces because there are so many to pick from. Take it from us, on an average day you will see us with our pieces spread to choose from. 
So to make the ride a bit easier for you, we have here a list of 7 jewelry trends that have come a long way and will continue to rule the world for many more years to come.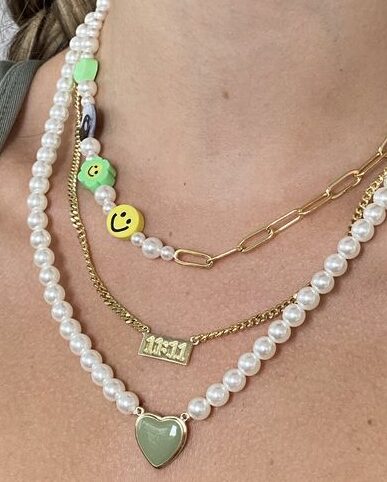 1. Playing It Charm-ing
Did you see someone sporting a guitar locket yesterday? Charms are jewelry trends that are personal customization with pieces that will show your personal preferences and inclinations. From specific musical instruments to books, charms have it all. Small yet elegant they can be a manifestation of your own self against your skin for the world to appreciate. This Pink Eternity Circle Charm is a beautiful creation with a shade of pink that will make you trip by its beauty.
This constellation pendant charm by Thaya jewels can also be a sleek design to wear with your slip dresses that will shine bright.
2. The World Of Hoops
Hoops are a jewelry trend that was, are, and will always be in style. Elegant with jazz, hoops can be paired with any outfit and make you look cool. Worn especially during the 8s and 90s, hoops have made a comeback. They are all things hip and classy. You can wear a statement golden hoop with your black dress for the dinner date or wear your silver hoop with the crop top for a day out. Hoops will give you peace and a sense of belongingness.
Never fear, the hoop is here to stay! This beautiful butterfly hoop design earring available at Thaya's website will leave you yearning for it in seconds. Get this unique piece that hides within it a story to tell.
3. Gypsy Talismans
What is the one thing about the world of Jasmine we love? That talismans enhance her to look beyond heavenly beauty. Talismans are a lot more than some random jewelry trend because many believe that it comes with a superpower to protect you from evil. This has been an integral part of the jewelry history that has interpreted talismans in various ways over the years.
Star signs, black thread anklets, or colored stones, are the repose of magical powers. If nothing else, this jewelry will make you look magical and we strongly believe that. This Evil Eye Twin Necklace is crafted to add a mystic look to your getup and is stunning to look at.
4. Color It Wild With Stones
Colored stones can catch your eyes from miles away and for good reasons. Bold, powerful, and with an allure of its own, the stone jewelry trend has taken the world by storm. From different colors and shades to choose from, one is likely to find the perfect pick within this spectrum. Stones are used to make large setting pendants and rings and wearing just one piece is enough.
This Green Onyx and Topaz ring is loud and tastefully designed to add a glint of sophistication to your look.
5. Make History With Beads
Beaded jewelry has been worn by the oldest tribes centuries ago. Created with unrivaled skill, immense patience, and exquisite taste, beaded jewelry draw inspiration from the most natural of everyday happenings. Earlier a symbol of power and wealth, now they show versatility in fashion. Colorful beads are weaved together using silver string.
Some of the major players in the world including Swarovski have started to invest in this trend. The hand knotted choker necklace is created with fine finishing and can be paired using different styles.
6. Back To Boho
Boho is the perfect jewelry trend for you if you consider yourself to be creative. Boho jewelry plays around with tassels, shells, and beads to create unique, never seen designs. With strong gypsy influence and area-specific designs, you can wear different types of boho jewelry from different parts of the world. Due to an air of fantasy that surrounds these creations, boho jewelry is appreciated by people of all ages.
This Feather Turquoise Boho Necklace is made of sterling silver and will be the shining star of your entire look. The quill-shaped piece with detailed craftsmanship will be a wonderful possession.
7. Keep It Gold With Statement Pieces
Gold jewelry trends will never get old. They are a sheer manifestation of elegance, beauty, and poise. Whether you wear it with a white gown or a top, we give you total points. We are sure people will swoon around you wearing such statement pieces as will we. Jewelry From watches to necklaces, golden accessories have a lot of options to choose from.
This golden necklace from Bloomingdale's is a perfect investment for you. Wear it time and often and it will still remain fresh. The history of Jewelry trends is incomplete without talking about golden pieces as old as time. The double Os interlinked in the necklace supposedly symbolizes double happiness.  There is an additional embellishment of the diamond which increases the value of the piece even more. 
These jewelry trends will forever be in vogue. At Thaya we aim to help you reach red-carpet looks with simple jewelry ideas and we hope these ideas will inspire your next outfit. We are sure you will rock all your looks and create a trend of your own. Go get them!