Never go out of style with our all-purpose style guide!
Earrings have been around for about 7000 years and are believed to have originated in ancient Asia. In the past, earrings were predominantly worn by males. They were considered a symbol of wealth for Egyptians, worn by slaves in Ancient Rome, and of course, a fashion statement in Europe. Earrings have become less popular among men and more popular among women over time. Women have opted to wear various earrings to suit their features and highlight their outfits. They act as the perfect accessory to showcase your uniqueness, creativity, and personality.
Our designers at Thaya Jewels have created a line of earrings that are timeless classics that any woman may wear. Our goal is to highlight the beauty of high-quality sterling silver and how versatile it is. Hence making it possible to produce eye-catching and unforgettable designs that are long-lasting. Our earrings are available in various styles, sizes, and colors to complement each woman's personal style. Read the My Thaya Guide below for our recommendations on pairing the right earrings for your next casual or chic work outfit:
1. Statement Earrings With An All-Black Outfit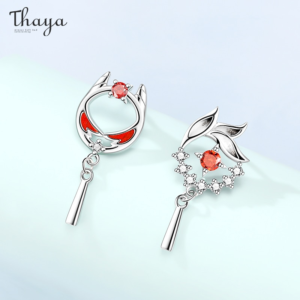 An all-black outfit is a classic way to dress for any occasion. And one such famous outfit is the Little Black Dress (or LBD). Introduced by Coco Chanel and popularized by the evergreen Audrey Hepburn, the Little Black Dress is a personal favorite that has evolved over the years and has become a wardrobe essential due to its simple yet elegant nature.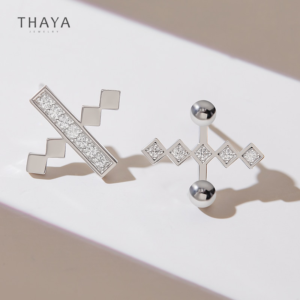 We suggest pairing your favorite black dress with Statement earrings. You can choose a different style for each ear or wear a pair of big chunky dramatic earrings; statement earrings are the most versatile alternatives.
2. Off Shoulder Blouse With Dangle Earrings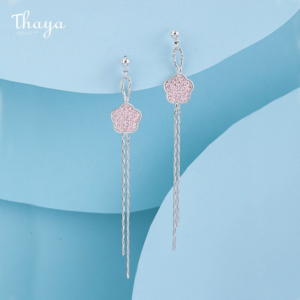 Off-shoulder blouses or tops are another must-have – they can be worn casually with a midi skirt and boots or even with jeans and heels. They're known for their versatile necklines that accentuate the shoulders, and what better way is there to accessorize them than with a pair of Dangle Earrings. Dangle earrings are similar to drop earrings and hang below the earlobe. However, they have a more elaborate design, more significant movement, and are simple to match with various outfits, from casual to dressy, and the results are always pleasing.
3. Stud Earrings With A Formal Attire
Stud earrings are often small and sit snugly on top of the earlobe without falling, looping backward, or climbing upward. Studs, which often have a simple design, are easy to wear and go with any attire.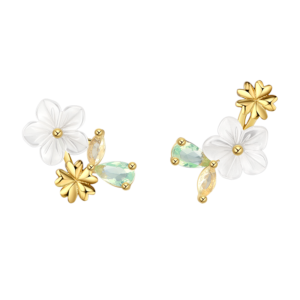 Diamond stud earrings are a must-have jewelry box and one of the most popular earring types; pick them to go with a floor-length evening gown on a red carpet. Studded earrings and formal workwear like a pantsuit are classic and beautiful choices for appearing your best and confident self.
4. Tassel Earrings With Floral Or Other Printed Tops
This season, tassels are all the rage, whether on jewelry, purses, or clothing. On the other hand, statement tassel earrings are a tassel fad that has made its way into the fashion world. They are nothing short of attention-seeking and eccentric. Tassels typically have many strands made of threads or cords of the same length tied on the top with a knot. Outfits these days are all about matching your clothes with the proper accessories to create a distinct style that makes you stand out, and why shouldn't you hop on the bandwagon too? Flowers are a beautiful reminder to slow down, enjoy every moment, and live in the present, so why not pair our Butterfly Tassel Earrings with your favorite floral top for the next girl's night out!
5. Pair Your Clip-on Earrings With An Oversized Shirt And Leather Pants
Clip-on earrings are a style of earring that does not require any piercing. They are worn by exerting pressure on both sides of the earlobe to keep the earring in place. If you don't have your ears pierced but still want to embellish them, a clip-on is a quick and easy way to do it.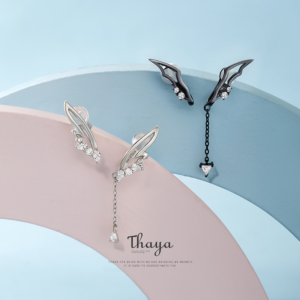 A simple crisp-long white shirt, black leather pants, and a pair of boots can be elevated by some badass clip-on earrings like our Angel Wings Clip On Earrings, Black Wings Clip-On Earrings, Unicorn Clip Earrings, and more.
6. White Statement Earrings With An All-Denim Outfit
The color white represents freshness, innocence, purity and often also symbolizes a new beginning! On the other hand, blue is associated with inspiration, freedom, imagination, and sensitivity. A mix and match of these two colors make for a great outfit idea – grab a couple of all-white statement earrings and pair them with an all-denim outfit to instantly uplift and add a unique twist! We're sure it'll not only make you stand out but also allow you to make a statement and steal the show every single time.
At Thaya Jewels, we bring nature-inspired earrings that perfectly blend creativity, talent, and uniqueness. Our earrings line is a mix of classic and contemporary styles. They can be gifted, and you can be rest assured that all will adore them because of their distinct appearance and shine. We've blended the greatest precious metals – Silver, Real Gold with Pearl Accents, Zircon Gemstones, and Synthetic Crystals that are affordable and safe as no harmful materials are used. Visit our website for more Thaya accessories.