In the realm of fine jewelry, Thaya emerges not just as a brand but as a storyteller, crafting narratives of silver and gemstones. Each creation is a sonnet, a carved whisper of the artisan's dreams and the wearer's essence. At the heart of their poetic assembly lies the bow-carved collection—a symphony of elegance and whimsy, a constellation of craftsmanship that transcends the mere act of adornment. Let us unfurl the ribbons of Thaya's imagination with a collection that bows to the beauty of life's every moment.
1. The Gift With A Bow Necklace jewelry: A Token of Radiant Joy
The Gift With A Bow Necklace is a masterpiece that encapsulates the exuberance of receiving a cherished present. Each prism, each curve of silver, reflects not just the world's light but the inner light of those who choose to adorn themselves with this piece. As a testament to Thaya's commitment to handcrafted excellence, the necklace, with its gentle glint and subtle charm, embodies the ethos of giving—generous, thoughtful, and endlessly beautiful.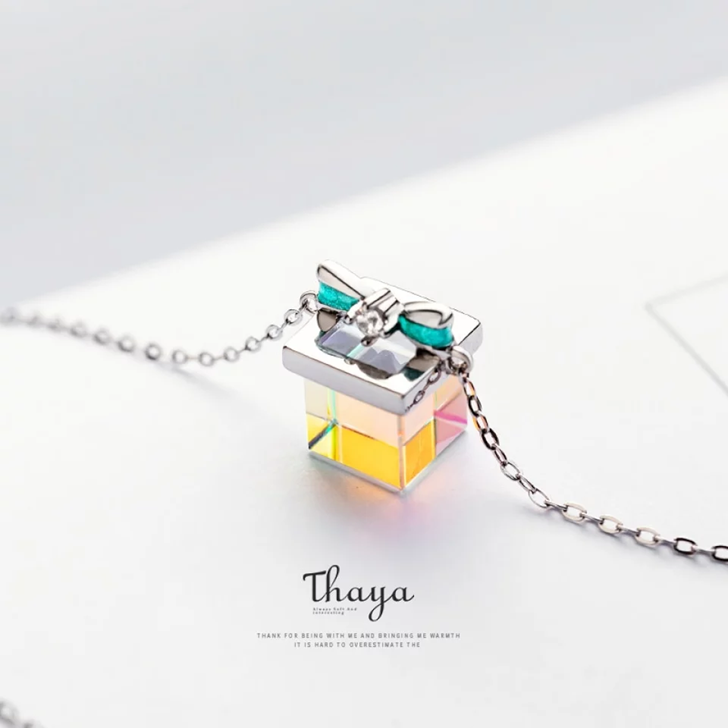 2. Silver Bow & Charm Bracelet– Fairy Tale jewelry Series: An Ode to Innocence
In the tapestry of Thaya's Fairy Tale Series, the Silver Bow & Charm Bracelet is a tribute to the stories that shaped our childhoods. With a nod to Little Red Riding Hood, the bracelet is a blend of nostalgia and modernity, an anchor to the innocent wonder that once filled our days. Each charm is a chapter, each bow a pause in the narrative, inviting us to revisit the tales that whisper still in the corners of our grown-up hearts.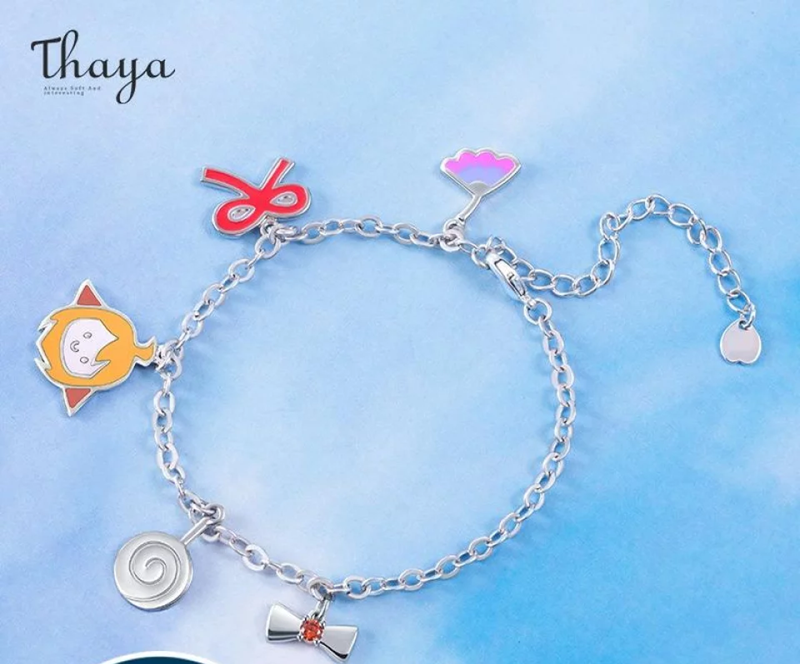 3. Elegant Bow Tie Ring jewelry: The Symbol of Loving Ties
The bow tie, traditionally a symbol of preparation for significant events, takes on new life in Thaya's Elegant Bow Tie Ring. It borrows the gravitas of marital vows and reinterprets it into a piece of jewelry that speaks of commitment not just to another but to one's own sense of self. Crafted in the glow of sterling silver, this ring is a silent promise, a circle of continuity, a beginning without end.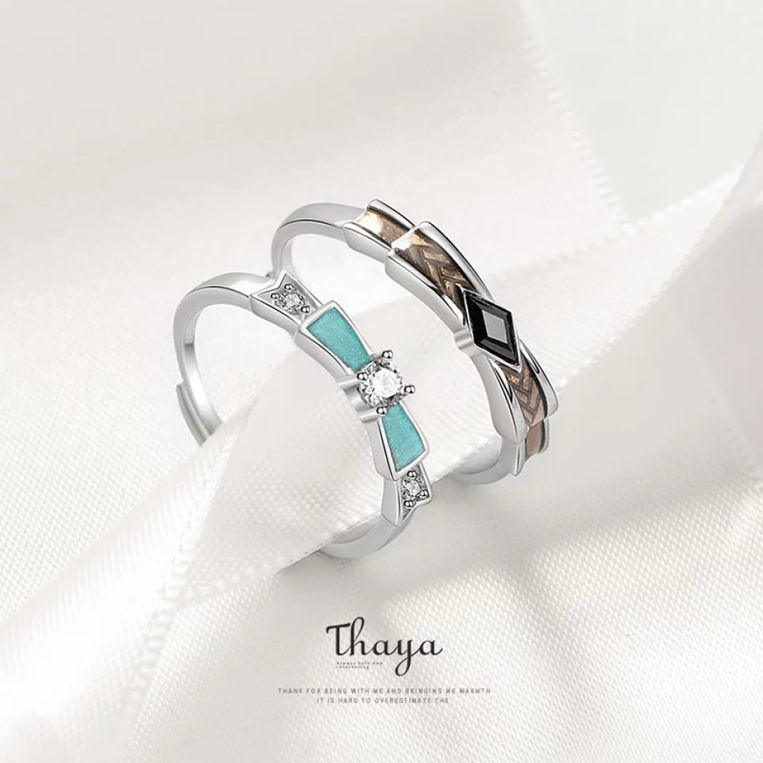 4. Pearl Knot Necklace jewelry: Dance of the Ethereal Butterfly
With the Pearl Knot Necklace, Thaya sculpts air and light. The asymmetry of its bow shape mimics a butterfly's dance, a creature as fleeting as it is beautiful. Embellished with the tender glow of natural pearls, the necklace is a celebration of life's delicate dance, of the gentle touch of wings against the sky, of the softness of nature's most tender ballet.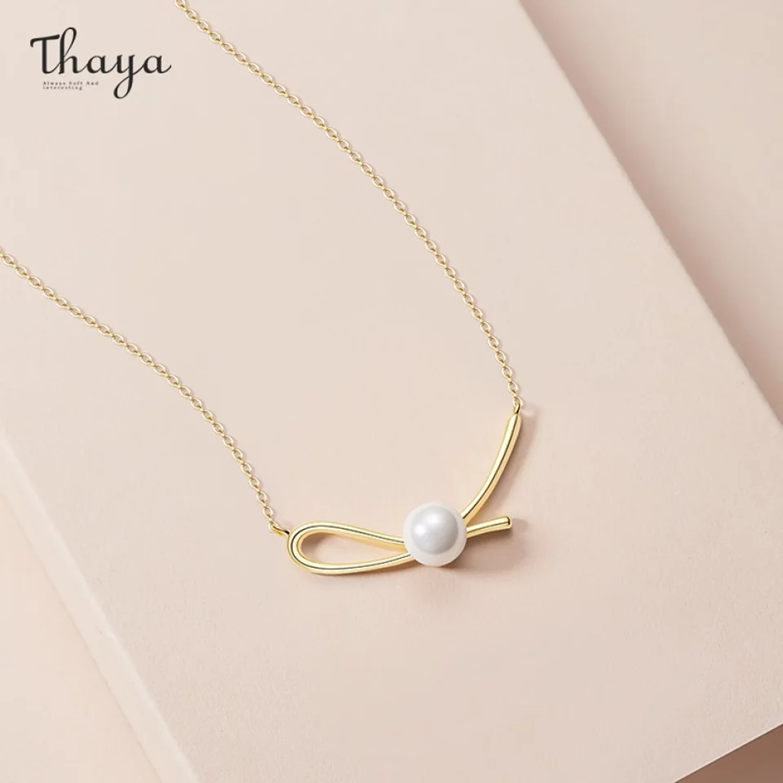 5. Fairytale Bow Stud Earrings jewelry: Whispers of the Night Sky
Envisioned as the embodiment of the night's deepest allure, the hypothetical Fairytale Bow Stud Earrings would be Thaya's homage to the secretive world after dusk. Inspired by the fairytale of Little Red Riding Hood, these bow-shaped earrings exude a timeless charm with a modern twist in their asymmetrical design. They are adorned with dazzling white and orange zircon crystals, infusing a delightful pop of color into the silver base. These miniature earrings add an adorable yet sophisticated edge to your ensemble, elevating your style. Expertly handcrafted to the highest standards of jewelry making, each piece guarantees durability, comfort, and a stylish fit.
With Thaya's Fairytale Bow Stud Earrings, you carry the magic of the night sky with you, a unique and captivating accessory. These earrings weigh 1.7 grams and come in a size range of 1.3 to 2.4 centimeters.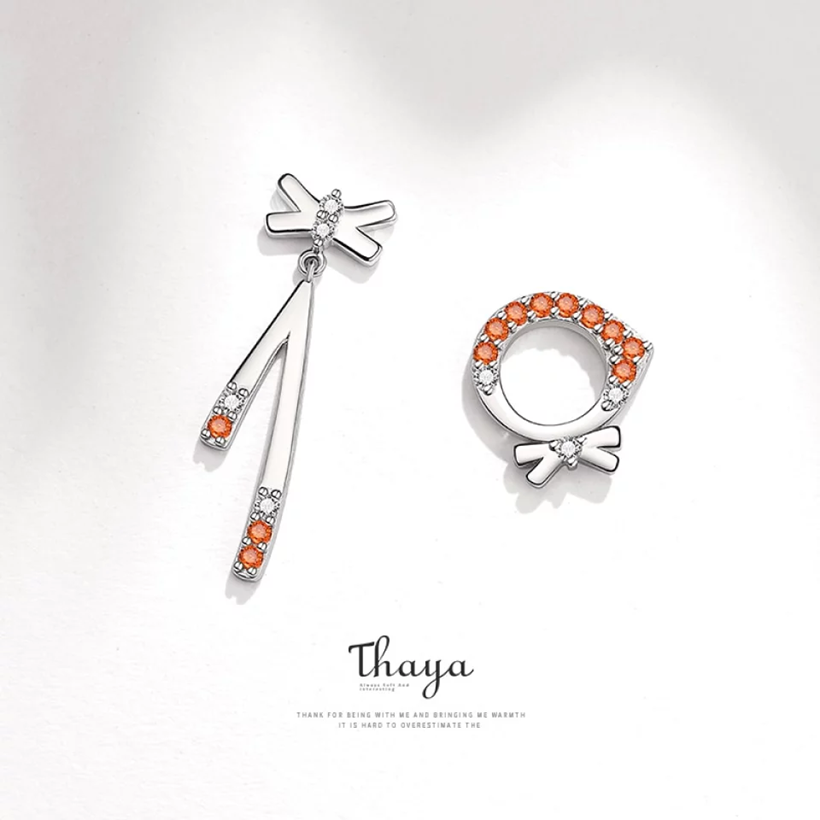 6. Bow Pendant Necklace jewelry : A Lustrous Dawn
This envisioned Bow Pendant Necklace would carry the soft luminescence of dawn, a silver bow to capture the serene moments of night sky. Thaya could pair this with a silver chain, a design that would symbolize the harmonious contrast between day and night, the golden sun bowing to the silver moon in an eternal dance across the heavens. Crafted with the finest S925 silver, this necklace embodies sophistication and glamour while upholding its core value of simplicity. It's not just an accessory; it's a token of sincerity and elegance that you carry with grace. Its high-quality silver ensures longevity and enduring luster, boasting non-fading properties and hypoallergenic comfort.
The hand-inlaid zircons on the bow pendant create an ethereal elegance, reflecting light and color in a mesmerizing display. Perfect for engagements, this necklace adds sophistication and trendiness, symbolizing a strong and beautiful connection. Lightweight and designed for a perfect fit, it enhances your natural grace. With a sparkling cubic zirconia centerpiece, it's like capturing a star in the night sky, symbolizing the purity and brilliance within your bonds, whether for engagements or as a token of love.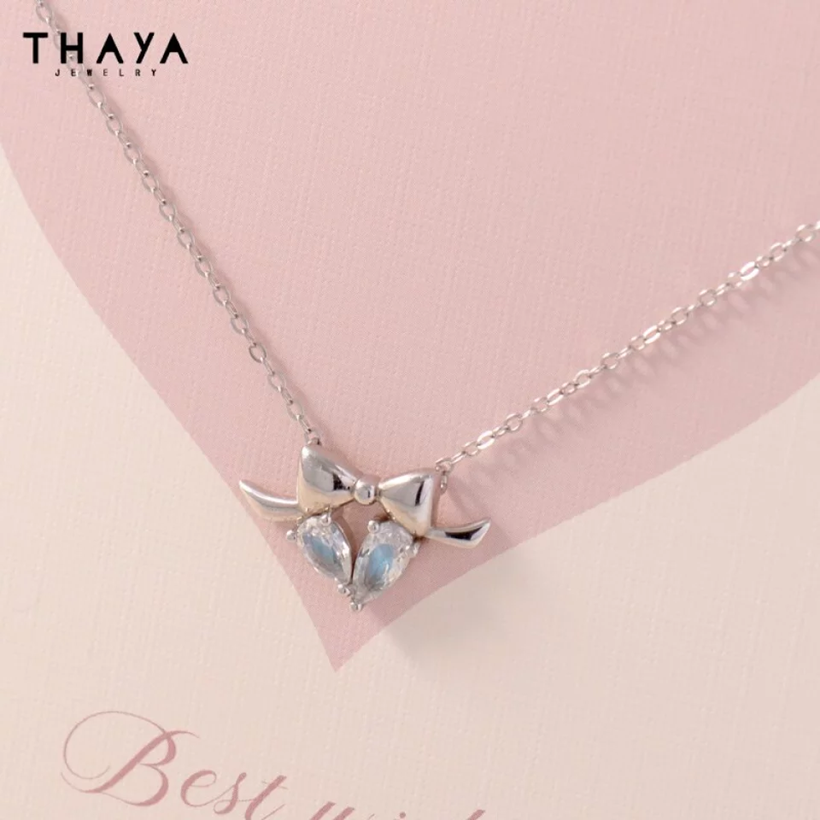 7. Bow & Arrow Earrings jewelry: The Essence of Understated Beauty
The Bow & Arrow Earrings, as envisioned, would be the silent narrators of elegance. They would be Thaya's tribute to the power of subtlety, to the whispers of style that speak louder than words. With these earrings, the wearer would carry the essence of classic beauty, each bow a gentle nod to the timeless fashions of yore.
The design of the earrings features an upward bow and arrow, poised to strike its target with precision. Linear tassels further enhance the decorative elements, while the refreshing blue accents add vibrancy to the overall composition. The intricate craftsmanship involves a meticulous process, including cold enamel application, multi-layer baking, glazing, and manual inlay of sparkling spar crystals. This attention to detail results in a dazzling and bright appearance.
Crafted from a copper base and plated with 9 layers of 18K real gold, these earrings combine durability with a touch of luxury. The use of S925 silver needles and synthetic cubic zirconia ensures both quality and beauty.
8. Bow-knot Bracelet jewelry: A Bold Declaration
The Bow- knot Bracelet is a bold declaration in the world of jewelry. It is a piece that combines the soft curves of a bow with the defiant shine of polished silver, a testament to the modern woman who is unafraid to stand out, to be both strong and soft, to wear her complexities with pride. it's a symbol of elegance and a token of heartfelt sincerity. Exquisitely crafted from the finest S925 silver, this necklace effortlessly infuses sophistication and glamour into your style, all while remaining faithful to its core principle of simplicity. It's not merely jewelry; it's a thoughtful gift, a subtle yet profound way to convey affection and appreciation to a special someone.
What sets this bracelet apart is the ethereal hand-inlaid zircon adorning the bow pendant, creating a captivating interplay of light and color. It's not just jewelry; it's a testament to your exceptional taste.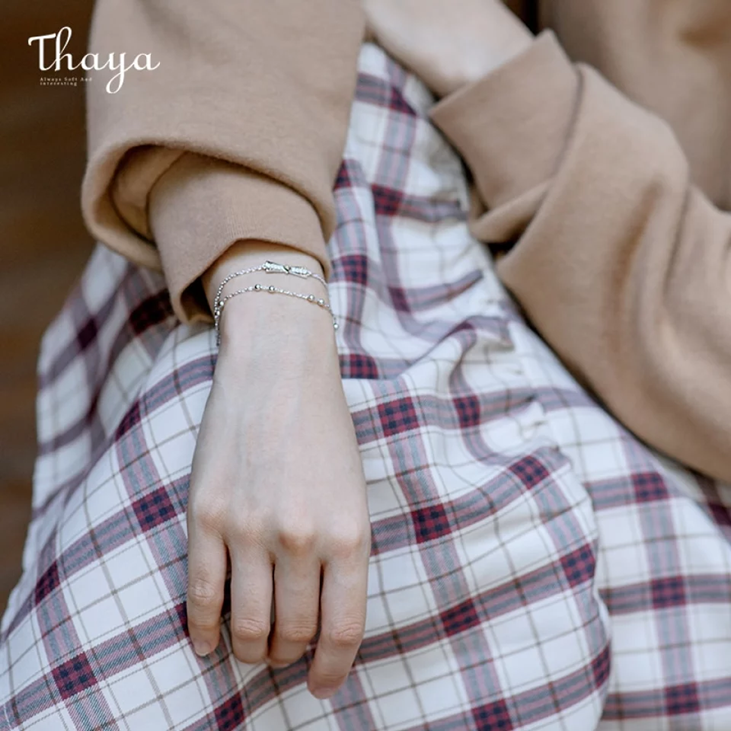 Each piece in Thaya's bow-carved collection is not just a jewel; it is a verse in the poetry of life. They are not mere accessories but embodiments of moments, of stories, of the silent words we carry in our hearts. This collection, while a figment woven from Thaya's known artistry, mirrors the brand's unparalleled dedication to beauty and craftsmanship, and their ability to capture the essence of our dreams in silver and stone.
As we reach the end of our journey through Thaya's bow-carved jewelry, we invite you to visit the product page, to find the pieces that resonate with your story, and to wear them as you create new chapters in the narrative of your life.