Thaya Pendants – Get Your Loved Ones The Perfect Gift This Season
Introduction
All we want for the holidays are presents!
Embracing festive customs lends a touch of enchantment to the holiday season.
After all, the Holiday season is all about your loved ones' presence and, of course, PRESENTS!!! Giving a present that says it all might be difficult in markets teeming with new gift ideas and drool-worthy products that find their way to your wish lists all year!
We've compiled a list of delicate and unique jewellery gift ideas that won't break the bank while yet spreading the same amount of love and happiness to the key people in your life.
Since the dawn of time, jewellery has been one of the most popular types of gift. Women (and men) have long loved decorating themselves with beautiful gems, and because these priceless objects can be rather pricey, they have become a means of communicating how important someone is to you.
Thaya Jewels guarantees the quality of the jewellery and only provides the finest with best-in-class sterling silver jewellery items that are light-weight and may be worn in both formal and family situations. Aside from her beauty, the brand provides everything a woman needs to express herself.
So, without further ado, let us dive into the thrill that awaits us.
1. Pearl Knot Necklace
Is daily glitter on your thoughts all the time? Thaya's Pearl Knot asymmetrical bow shape design necklace, which gives the illusion of a butterfly moving in a tired posture, is a pendant you may choose to add some glitter to your neckline.
The sterling silver base has 9 layers of 14K genuine gold plating, and the showstopper of this magnificent item is the elegance of a freshwater pearl at the centre, which is an epitome of minimalism style.
Don't forget that dazzling your way through the holiday season with some brilliant jewellery for yourself or a loved one is always a lovely idea.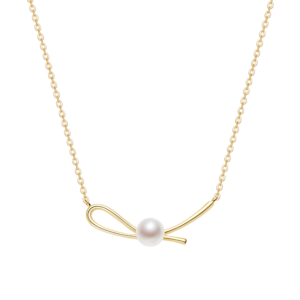 We're all looking for The One, but only a few people ever find it. This Double Heart Necklace is symbolic of two gorgeous and brilliant energies merging to create something great, and will recall you of all the treasured moments – in many senses of the word. And if you haven't found yours yet, maybe this is the lucky charm you've been waiting for?
This pendant is an elaborately made masterpiece that includes two glittering hearts, one in silver and the other in rose gold. The larger heart is hollow and inlaid with pink spars for a touch of sophistication. A smaller heart in a brilliant silver hue is also visible. The item is composed of copper that has been plated with nine layers of 18K platinum for a long-lasting brilliance.
This Silver Dual Tone Interlocked Heart Pendant is lovingly handmade and is a wonderful Thanksgiving gift!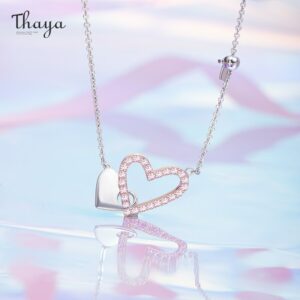 3. Star Necklace
This stunning necklace evokes a sense of awe and makes one fall head over heels in love with it. This is a must-see attraction!
This Star necklace will make you stand out from the crowd! Wear it whenever you need a boost of confidence. This composition is for lovers who are star-crossed. A star-shaped charm and a pearl signifying the moon are used in the design. It features a sumptuous double chain pattern with decorations that glistens like a starlit sky all the way down to your neckline. 
The item, which is made of sterling silver and covered in 9 layers of 14K genuine gold, gives you a refined look. 
A wonderful present for someone you care about, or for yourself. This lovely work of art is ideal for all of your special events.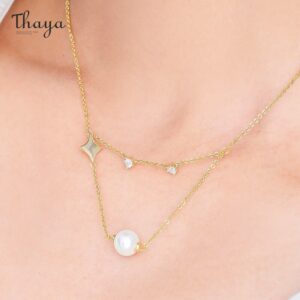 4. Red Crystal Sterling Silver Pendant Necklace
This Red Crystal Sterling Silver Pendant necklace is inspired by the "Whitzard" beast in the "Shan Hai Jing" and is based on a beast converted into a pet in the Chinese tradition of Shan Hai Jing.
Rubies adorn the middle, which represents the Witzard's symbolic forehead. S925 silver plating platinum is used throughout the entire body.
It's that time of year when you may add an exquisite touch to your everyday clothes or provide joy to your loved ones' life with this timeless alternative, not to mention a lovely present they'll keep forever.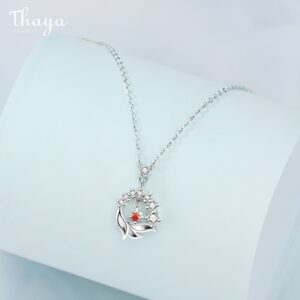 5. Heart Shaped Pearl Necklace
The finest feeling in the world is loving someone with all your heart and being loved back much more. This Heart-Shaped Pearl Necklace embodies your most cherished feelings. May your love last for all eternity. 
The jewellery is delicately created by Thaya's in-house artisans, and it blends traditional craftsmanship with a modern twist.
The Heart Necklace is meant to represent the delicate heartbeat of two individuals in love. It has an uneven heart-shaped pendant with pearls that is elegantly decorated. It's made with a sterling silver base and 9 layers of 14K genuine gold plating for a long-lasting shine.
It's a thoughtful present for all the pearl lovers out there, as well as some fantastic Christmas holiday arm candy.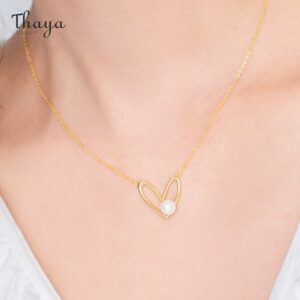 6. Cat Bell Pendant Necklace
Isn't it true that cats are adorable? They may look cold and indifferent on the surface, but this is simply a ruse. Cats are the warmest beings on the earth when they're with the people they care about. This Cat Bell Pendant Necklace is inspired by these adorable felines.
With its sterling silver cubic, this distinctive Cat Bell Design speaks volumes about your particular taste. Its beautiful design and stylish appearance ensure that you look excellent at workplace meetings or after-work gatherings. With this necklace, you may add a touch of modest shine to your numerous ensembles while expanding your 925 sterling silver jewellery collection.
This amazing assortment is for all the millennials out there searching for a fashionable item to wear this holiday season.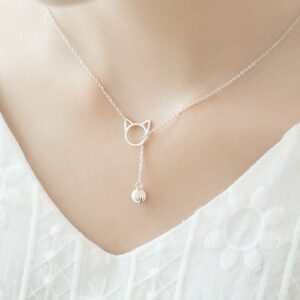 Conclusion
The spirit of the holidays is in the air. Lights will be up, songs will be sung, and the formal holiday shopping season will begin before you know it! Soon, the season of giving will arrive, and loved ones will meet to exchange presents. It's never too early to start your holiday shopping. Celebrate the women who appreciate dazzling beauty and self-expression with Thaya's unique jewellery line.