Thaya Sea Of Pearls Collection: Gift Your Partner This Season Of Love
Pearls of Wisdom curated only for you.
Pearl Jewelry is very mesmerizing as well as mystical to one's mind. The story behind the formation of pearls and their use in making beautifully designed jewelry by master artisans only leaves one in awe. The pearl goes through an extraordinary journey in nature, from being a foreign speck embedded in the oyster to form a beautiful shiny pearl or a nucleus introduced in a healthy oyster identified by a master craftsman in a man-made process. The oyster is triggered to secrete nacre around the foreign speck or nucleus, which is the skin of the pearl. Then the oyster makes a miracle journey in forming a pearl, and it can take anything from two to two and half years. Once the pearl is harvested, the process of designing starts depending on the size and weight of the pearl. The master craftsman then follows the design and instruction of the designer creating beautiful pieces that we adorn in the form of dainty necklaces, dangling earrings, rings, and bracelets. Also, one can't resist the connection of romanticism with a pearl.
Naturally, they come in colors such as white, a slightly yellowish brown-cream color, and gray. Other colors that can be found are black, blue, champagne, chocolate, green, lavender, and pink.
From being the oldest gem in history worn only by aristocrats to now being accessible to everyone, the pearl has had an exciting journey and is considered cool and trendy even by the millennials, and will continue to be part of the fashion trend even in the future.
So why not buy a gift fitting for all your love milestones – gift your better half Thaya pearl jewelry because we believe in love, and all our designs are created to do all the talking just for you. Continue below to know more about our picks from the Thaya collection.
1. Four Leaf Clover Bracelet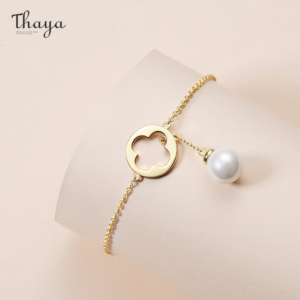 Seen as a symbol of good luck, the four-leaf clover is considered extremely rare as it occurs as few as 1 in 10,000! The bracelet undergoes an electroplating process where sterling silver is plated with 14k real gold, and freshwater pearls are added to elevate and make it a one-of-its-kind piece of jewelry. Our designers come from some of the most highly acclaimed jewelry schools from around the world, and their expertise is well seen in the design where a hollow-shaped four-leaf clover is met with a pure white pearl attached to an extending chain. The pure white pearl acts as a dewdrop, whereas the four-leaf clover represents luck, love, confidence, and hope within this classic bracelet.
2. Star Necklace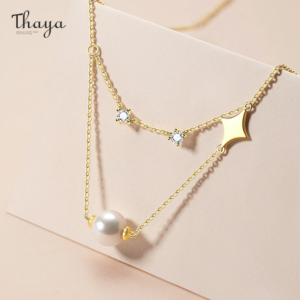 Deemed worthy for the 'star crossed lovers; the Star Necklace does a double feature. At the top layer, we have crystal embellishments and a star-shaped charm representing the starry night, while the bottom layer has a pure white pearl representing the ever luminescent moon. Our designers and artisans worked together to bring you our idea of a starlit sky – the necklace is made using the electroplating process and undergoes a 360° manual polishing to give you the perfect shine needed to uplift your outfit. The sophisticated necklace chain is of the length – 40 cm + 5 cm.
3. Full Moon Necklace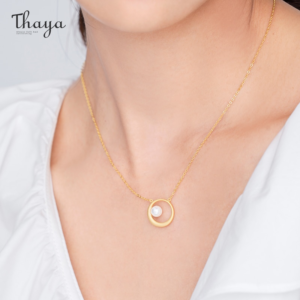 The Full Moon Necklace is a classic statement piece that makes for a thoughtful gift for any occasion and is a definite show stopper. Symbolizing the most romantic things in the world – a full moon night, the necklace imbibes that beautiful feeling of sitting with your loved one and watching the moon in its glory. The design incorporates a freshwater pearl surrounded by a hollow circular that represents the completeness of the moon phases. This particular jewelry goes through a process of electroplating sterling silver with nine layers of 14k gold and then sandblasted to give it a smooth finish.
4. Fish Scales Earrings
These dainty earrings are carefully crafted to represent fish fins. However, not your conventional design, the Fish Scales Earrings are unique. The top part of the earrings is made of copper-plated platinum carved by hand to give it a frosty scale texture. The pins of the earrings are made of s925 hallmarked silver that is light and comfortable for the skin. But of course, that's not all; the earrings are decorated with dangling pearl beads that will get you noticed from afar. Apart from that, detachable tassels make this Thaya pearl jewelry versatile enough to style any way you like.
5. Tiny Hearts And Pearl Necklace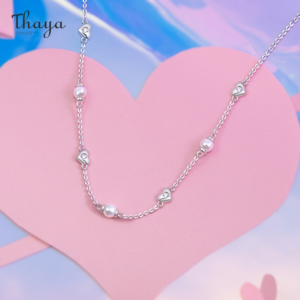 Another gem in our collection made with the utmost love and care, the Tiny Hearts and Pearl Necklace reflect a graceful love story between alternate pearl embellishments and heart-shaped beads. An amalgamation of copper, 18k platinum, synthetic cubic zirconia, artificial pearls, and manual inlay gives it a refined look.
6. Pearl Knot Bracelet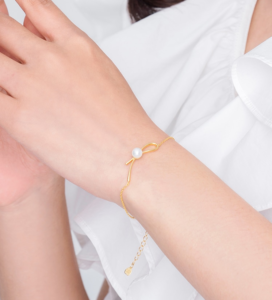 The design is beautiful and simple in nature, featuring an asymmetrical bow shape with a natural pearl holding the bow together. It can be worn daily or even just for a special celebration. On wearing the bracelet, one can visualize wearing a dancing butterfly in a wary stance. Molded of sterling silver and plated with real gold, the bracelet makes for a classic addition to your wardrobe. It is available in a standard 14 cm + 5 cm extra if required. You can also find its counterpart – The Pearl Knot Necklace here.
7. Black Cat And Paw Drop Pearl Earring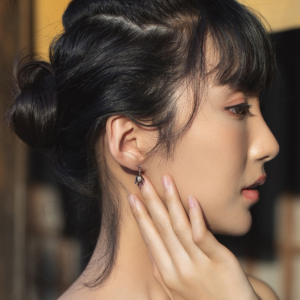 The design concept for this Thaya pearl jewelry takes a more mysterious and fun approach that involves cats! That's why if you or your other half are cat-people, then this is a must-buy for you. Creativity can be seen spilling in the design of these earrings that represent a relationship between a cat and its owner. One earring is a cat claw with a white shell bead between it, and the other is a cat face with dangling shell beads that give it the look and feel of actual pearls. The materials used are sterling silver plated with copper, s925 silver needles, shell bead embellishments, and cold enamel to give them that classy yet relaxed finish.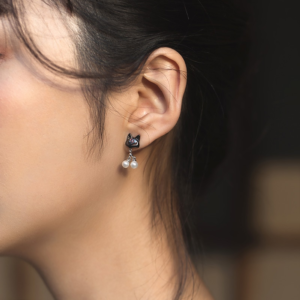 Takeaway
Pearl jewelry continues to evolve to suit today's contemporary vibe, where it can range from an exquisitely feminine to an edgy and bold look. It adds a level of oomph to the wearer, whether at a party or in the workplace, and also makes for a sweet reminder in this season of love. Now that you've got all the insider information on the best gifts let us know in the comments below which Thaya pearl jewelry you will be indulging in.